Media plays a vital role in boosting the overall appeal of your WordPress site and making it more impressive. However, in the backend management of media files is a tough task especially when your sit starts growing and you constantly add more media files to it. Here, certain plugins come to your rescue and take the complexity out of the task. Termed as media library management plugins,
They allow you to arrange the media file neatly in different categories, edit or delete them in bulk and label them appropriately. It thus saves you from sifting through a chaotic pile of files and enables you to instantly find the file you need.
 Organizing your media files in a cogent manner can go a long way in making our day to day activities simple and hassle-free. In this blog we are going to introduce various relevant plugins that would make backend media management easier for you by categorizing new/existing files, renaming them or insert them into specific folders.
FileBird
The appealing design, simple interface and swift operability earn filebird the deserved position on this list. The plug-in allows you to categorize a huge number of various media files including images and videos and organize them into dedicated folders. You just need a simple drag and drop process to arrange or upload files or move them from between different folders as per the requirements. In short, if you are comfortable organizing files/folders on our PC then you would find yourself at home with this plug-in.
Its intuitive toolbar palette allows you to create folders, change their names or delete them with the help of a right-click that lists all the key commands to choose from. The seamless support for diverse media files and easy provision to create folders as well as subfolders can save you a huge chunk of time which can be utilized for other more productive tasks.
The plug-in works seamlessly with most of the top plugins and popular themes and takes the complexity out of file/folders sorting. Depending upon your requirements you can either opt for the free version that works best up to 10 folders or buy pro version instead if you have more than 10 folders
Mediabay
Mediabay is an inquisitive media organizing plug-in that delivers you the capability of managing numerous files without wedging through complex procedures or tedious processes.
Its simple, guided interface makes it a perfect plug-in fro eh beginners while the advanced options make it equally ideal for the seasoned users who wish to exercise more specific controls
 The plug-in available in 3 different price tags depending upon the capabilities and scope.
Media Library Assistant
The Media Library is a friendly power-packed plug-in that allows you to add diverse media files to your posts with the help of sophisticated gallery shortcodes. Along with a wide collection of shortcodes for sorting ordering or displaying the images it also empowers you to seamlessly remove add or edit bulk taxonomies with its quick edit features. The style and mark-up template offers you full control over various aspects like mark-up, styles, and content
 The plug-in offers you detailed information on key stats of media file like dimensions, size, location on the site, as well as date and place of creation. The seamless integration with other related plugins further expands its capacity thus allowing you to insert thumbnails, sideshows and special gallery effects. The plug-in works seamlessly with Polylang Multilanguage and WPPML plug-in.
Folders WordPress media library management plug-in
The easy drag and drop based functionalities add to the convenience, streamlines the things and saves our efforts and time. In no time you can create fully organized ecosystem that makes it quick to browse through.
With its extended folder related capabilities you can cut down the unnecessary delay in sifting through tons of files to find the one that you are looking for.
The plug-in automates and facilitates the process of categorizing, and organizing your uploaded material to assure handy access whenever you need it. This plug-in uncomplicated process of arranging your media files in an orderly manner. Installation is quick and quite intuitive and even a beginner can install it without any dependency.
 Along with images you can also create dedicated folders for other media files like audio and video that will help you to arrange all media files of the specific category at the same place. The plug-in support a number of media library views like image picker, featured image, media library list and various others.
Organize Media Library by Folders
This plug-in helps you to make multiple folders dedicated to a specific type of media files like images, videos, etc. It also allows you to use and control the new specially created URL addresses for specific folders.
 Whether you run a corporate entity, media streaming company or a professional blog the plug-in makes it much easier to perfectly stores your new and existing material in a well-organized manner, regardless of the volume or media types.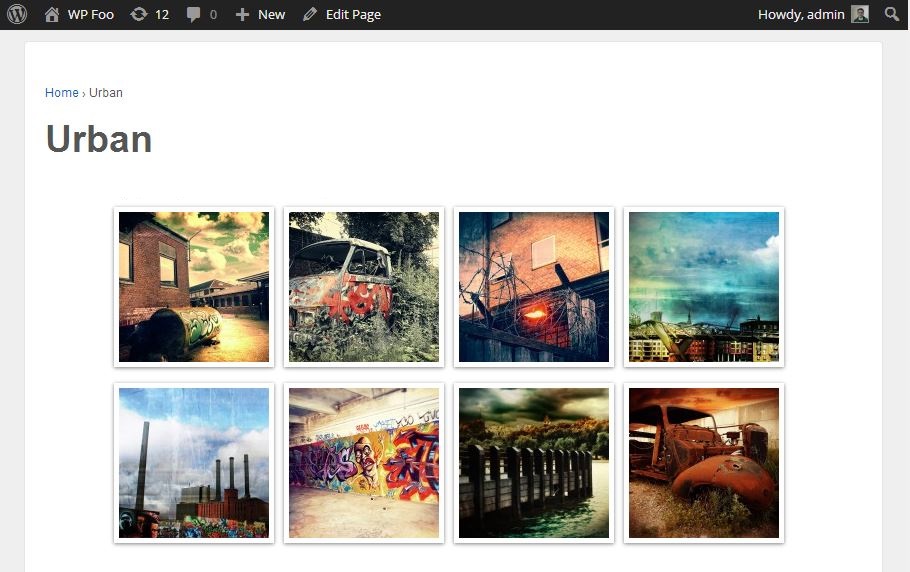 FooGallery
The Foo gallery not only allows you to create the folders for your media files but also offers you a collection of visually enhancing galleries with spellbinding looks and marvelous effects. The intuitive interface allows for quick almost effortless operations enabling you to achieve a magnificent outcome with minimum input
 Moreover the FooGallery is also equipped with a number of their user-friendly features focused on multiplying the productivity and enhancing the user experience like lazy loading, drag and drop rearrangement features, albums, simple pagination, and gallery widget. The plug-in works seamlessly with the latest Gutenberg, and offers a uniform experience across different browsers and diverse mobile devices regardless of the user interface or screen size.
Conclusion
It is almost impossible to think of any good WP site without any media files. The media content plays a vital role in leveraging the overall impact of your site. However, it is not easy to work with media files. While adding them is a different story altogether, managing them is also difficult. The best solution is to use various purpose-built plugins that help in categories your media content and arrange them in dedicated locations along with offering other management functionalities t make your media content quickly discoverable as and when you need it. In this blog we mentioned some of the best media management plugins for our WordPress site. Depending upon your specific requirements you can choose the one that fits your needs and budget