Bloggers need to look after multiple aspects to enjoy a wholesome experience and optimize the potential of their blog. Right from deleting the spam comments to managing SEO strategy, there are several activities involved and it is simply not possible for bloggers to manually take care of all these aspects. Thankfully WordPress offers a huge repository of plugins to automate such regular management tasks and makes it much easier for you to optimize the potential of your blog or website with minimum efforts. So, we have started this series of blogs that will contain various bloggers friendly plugins to automate their tasks, streamline the growth strategy, and help them add more potential to their respective blogs:
SEO Frame
SEO frame is a lightweight free plug-in that packs loads of features to streamline your SEO activities and proactively helps you in monitoring, managing and restructuring your SEO strategies.
· An SEO bar adjacent to each post and page gives you a quick idea of the SEO status of individual posts/pages and thus makes it easier for you to fine-tune them for optimum SEO benefits.
· automatically generate titles, descriptions, and canonical URLs, and it comes with built-in sitemap functionality.
· It wouldn't be wise to deny the extra power and features provided by premium SEO plugins. However, during the initial stage, the free SEO plugins can do a wonderful job without burdening you with additional running costs. Using such free SEO plugins can also prepare you for confidently controlling the SEO aspects of your blog. When your blog starts growing and generating a decent revenue stream you may choose to buy premium SEO plugins.
WP Fastest Cachce
WP Fastest Cache can automatically generate the static HTML pages of the entire WordPress website through Mode_Rewrite methodology. It is available in both free and premium version and the latter is packed with more features. That said, the free version also offers decent benefits at zero costs.
 It features file magnification, Gzip compression, and browser caching. There is also support for SSL certificates, content delivery networks, and Cloudflare. $49.99. It adds caching for mobile and widgets, lazy loading for images, database cleanup options, and improved file minification.
WP Rocket
Installing WP plug-in is super easy and the best thing is that it delivers instant results by enhancing the website loading speed using its advanced technology. For technically proficient users the plug-in offers more sophisticated capabilities to fine-tune the default plug-in settings.
Features include page caching, cache pre-loading, Gzip compression, browser caching, lazy loading of images, CDN support, import and export functionality, and more.
weForms
Available at WordPress.org for free the weForms is a simple yet effective contact form plug-in that uses Google reCAPTCHA to save your site from spam. Using its drag and drop form building tool you can create numerous forms as per your requirement and the visual elements like section breaks, custom HTML, and columns allow you to customize your form the way you like. With this plug-in you can view the entire list of form submission right from your WP admin area.
12 custom form fields are available within the builder together with design elements such as columns, section breaks, and custom HTML.
The pro version of the plug-in retails from $39 per year. It adds advanced features such as conditional logic, file uploading, and integration with popular email marketing delivery services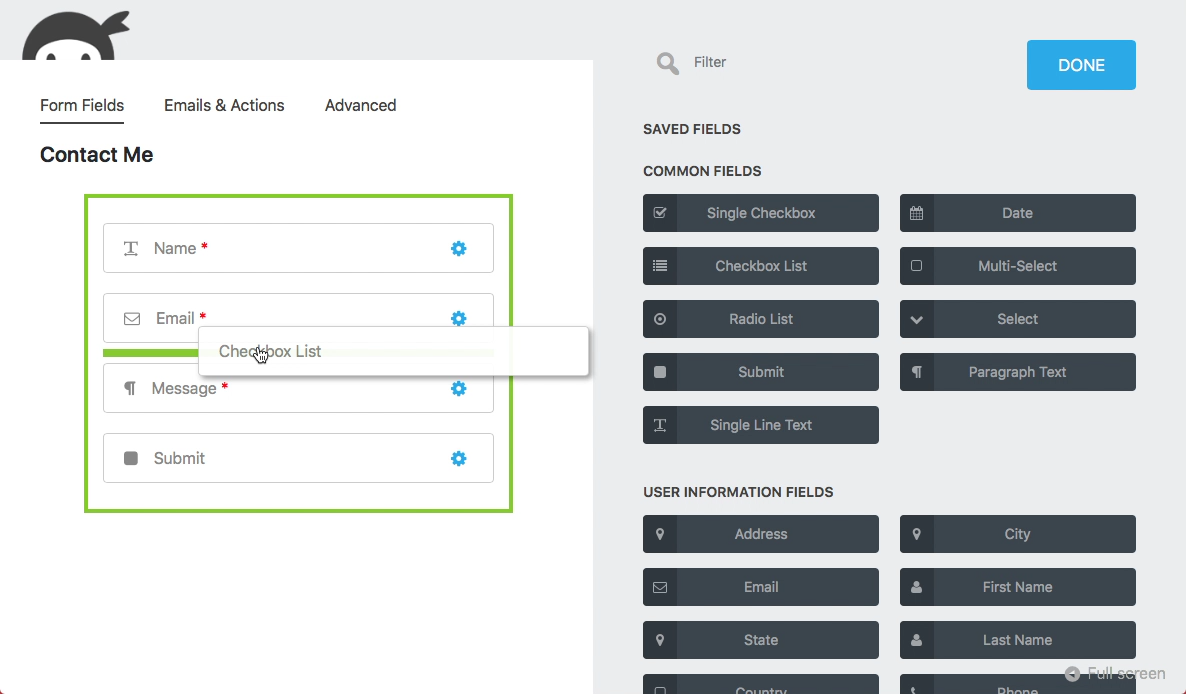 Ninja Forms
Ninjaforms is a highly popular user-friendly form building tool that packs powerful features and comes with a simple interface. It offers you 12 different form fields to create and customize your forms as per your wish and requirements.
The plug-in comes with several extensions and you can pick the one that you specifically need for personalizing your form.
Extensions retail from $29 and up for use on one website This means that if you require many extensions Ninja Forms can be a costly solution, however, the beauty of extensions is that you only need to purchase the additional functionality you need.
Simple Share Buttons Adder
Simple share buttons Adder offers your audiences an easy way to instantly share their favorite content with their friends. Thus it can instantly turn your content into a conversation starter and multiply their reach and potential. You can position the buttons either before or after the posts and the plug-in offers you a wide collection of customization features like custom button size, color, position, etc. Thus you can fine-tune the configuration a styling option to gain optimum benefits.
Easy Social Share Buttons
Easy Social share buttons simply overwhelm you with loads of options and a selected comfortable collection of curated template designs. Along with the popular social media platforms the plug-in also supports the new and emerging options as well- totaling to 31 different services.
You get the extended flexibility to determining the position and visual presentation of the buttons thus allowing you to complete ownership over the social sharing ecosystem of your website.
Popup Maker
Pop up maker offers you decent popup related options and comes with a friendly user interface. You can determine the behavior of popup and decide the triggering criteria. They can be triggered instantly when the visitor licks a specific clink or you can also set a timed delay. You can also decide on the specific website areas where the popup should work.
The beginners can pick from any o the 6 popup themes that come shipped with the plug-in. For advanced users, the plug-in offers an integrated theme builder to also create their desired popup designs from scratch.
17 premium extensions are available that extend functionality further. Additional features include an advanced theme builder, video popup, analytics, and email marketing integration.
Conclusion
There are several monitoring and management tasks needed to ensure a sustainable growth journey for your blog. Manual management of all these tasks isn't easy and is prone to human errors. WordPress offers several plugins to take care of these tasks with almost zero efforts and high accuracy. In this blog, we have presented the last of various WP plugins to take care of different aspects of your WordPress blog. It is best to check the updated reviews of any plug-in before you buy it.