Creating a photography website can get tricky and demanding as you need a versatile platform to showcase your visual portfolio and at the same time enable the visitors to purchase your services online. So you need a perfect blend of beauty and utility features. While there are several themes available in the market, you need to be very careful about choosing the theme that best surveyor purpose. In this blog we are going to present some of the best photography themes that you should seriously consider for building your photography site: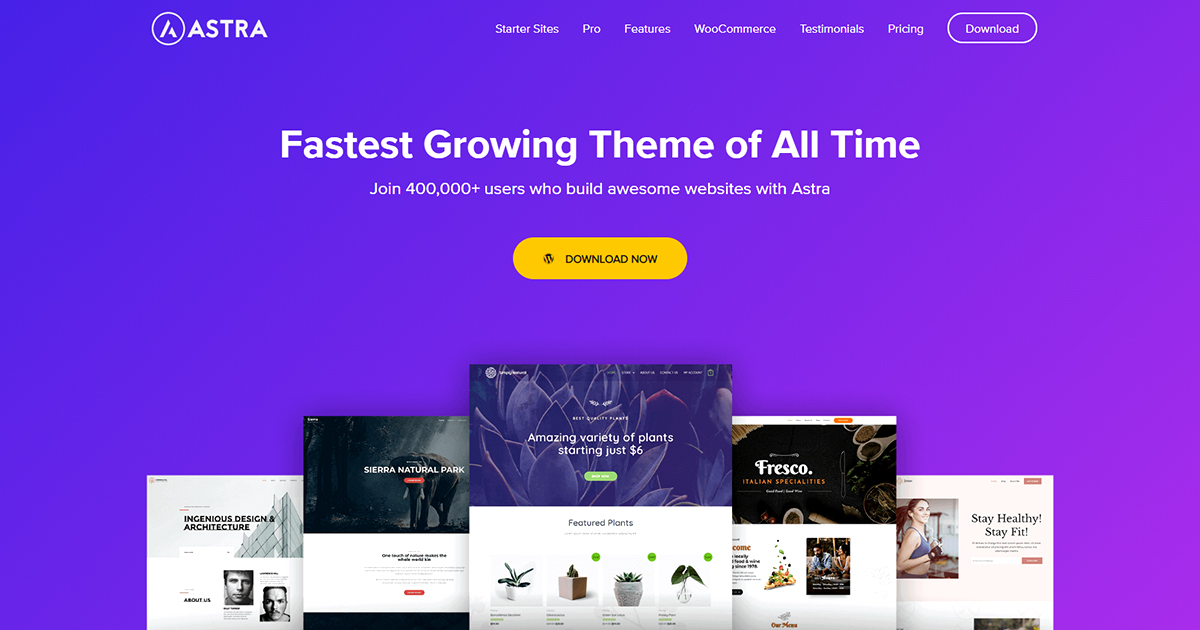 Astra
If you need to exercise the best of your creative appeal without going through a complicated process or compromising with the quality then the Astra theme is the right choice for you. Its awesome demo layouts fully cater to the needs fo a photography site and you would also love the variety and quality of starter sites as well. It fully supports the easy page builders allowing you to further customers the overall visual personality of the theme. There is a wide collection of fonts, colors and backgrounds t choose from. You also get the ability to build your personalized landing pages equipped with the best selling features with the help of third-party plugins.
Uncode
Your photography site is a great way to exhibit your creative works and portfolio but at the same time you also need to cater to your commercial goals. For that, you require a versatile theme that can be used for showcasing your portfolio, telling people about your services and enable them to buy your services online. Uncode is one such theme that stands out due to the fine balance between aesthetics and utility features.
You would love the specially designed photography-centric templates that come packed with all the key features required for an impressive photography website with user-friendly features.
The wide array of demo pages, ready to use layouts and purpose-specific features like multiple header options with an ability to add the desired style/animation makes it stand out as the most ideal theme for your photography site.
Oshine
Oshine is another powerful theme with plenty of features that allows you to create a professional photography site with appealing visual quality and loads of utility value. It allows you to comfortably stretch your creative imagination with its 40+ demos- each having a different personality. So, you wouldn't have to compromise with your visual needs.
The theme boasts of a large number of satisfied clients which is a perfect testimony to its quality commitment. It also means that the company has benefited from lots of use cases to constantly improve their themes to suit the specific requirements of the clients.
You would get a huge number of customization options like quick page builder with drag-drop features, various layout combos, appealing video backgrounds for a better impact and a wide array of blog layouts. The major USP of oshine lies in its eye caressing appeal that assures your visitors a luxury visual ecosystem without straining their eyes. Its seamlessly integrates with Woocommerce and WPML that makes it a great fit for your commercial objectives as well.
TheGem
TheGem is aptly named as its quality is simply outstanding. It comes with powerful features and supports several use cases without compromising on the quality.
You will get a huge, curated collection of demo pages and multiple header styles to choose the one that best fits your site. Also, the extensive variety of colors and fonts simply takes the cap off your creative capabilities. Slider plugins are attractive and come in 3 varieties NivoSLide, LayerSlider and Slider Revolution to produce spell bounding hero screens loaded with loads of beauty and features.
In the portfolio set you can find some of the most professional-looking designs for a photography site that look luxurious yet soothing to the eyes. It seamlessly integrated with multiple plugins.
Inspiro
If you are more inclined to use your website for a creative purpose, i.e., showcasing your creative skills rather than using it as a selling platform then this is the best theme for you. It offers you a full-fledged creative canvas to show your best works to the world with the enchanting presentation and awesome theme.
With the availability of as many as six well-crafted demos and several excellent features to enhance the visual appeal, the theme guarantees to fully satisfy your creative needs. It is worth mentioning that the theme also has a dedicated demo for videographers.
Some of the visual effect tools are video backgrounds, full-screen headers, friendly widgets for slideshows and multiple gallery modules. Its seamless compatibility with page builders like unison Page builder and Beaver Builder Plugins further helps you to personalize the theme to suit your creative expectations.
If you a looking for a theme with stunning looks and friendly list of features that don't overwhelm the visitors then this is the best theme for you.
Milea
Photography is closely related to luxury, aesthetics, and storytelling. If you love to showcase the occasion or event-based photography portfolio then Milea is the right platform for building your site. It is more suitable for professional photographers and agencies that expertise at theme-based or event-specific photography services. The site's layout allows you to showcase the pictures with the best professional appeal that is the key to attract the high-worth clients and enterprise clients.
You would also love the features like easy page builder with drag and drop steps that empower you to fully personalize the layout or produce the new one that meets your profile, criteria, and objectives. For instance, you can insert clients' reviews and feedback sections. Add Instagram feeds etc.
As a professionally inclined theme the mileas offers you several promotion-specific features to widen your reach and impact. Its seamless integration with MailChimp allows you to initiate email outreach without any complex process as it comes already integrated with the program.
Conclusion
Building a photography site needs you to put into much of the efforts and creative inputs to make your site stand out in the competition. Thanks to the availability of many economically priced and free themes in the market it has now become easier for you to create your photography site without going through technical complications or creative limitations. However, to get the best benefits out of your sites you would need to invest a good time ad go through multiple review guides like this one to make sure that you should get what you exactly need.